So you think you want to be a LaSallian?
…but do you have what it takes?
We're one of the fastest-growing staffing and recruiting firms in the country. We're a ten-time veteran of the Inc. 500/5000 list of fastest-growing private companies. We were the only staffing firm named to Glassdoor's list of Best Places to Work, and we've been named a Best Place to Work by Crain's Chicago Business for three years in a row. We work with Fortune 500 brands and some of the biggest names in the market, placing top talent to help these companies thrive.
We didn't get here by treading water. No matter what generation you're part of, nobody combines personalities and creates career culture better than LaSalle.
Our culture isn't for everyone. Many people don't want a sense of community at work. They don't want their co-workers to be their friends. They want to leave their job at the office when they leave at the end of the day.
Most companies aren't LaSalle Network.
You're a LaSallian If…
You thrive on being around people. You live for the hustle. Your friends think you're odd because you work harder and care more than anyone they know. You cheer… for everything. You love balloons. You don't believe in closed doors or the word "can't." The word accountability actually means something to you. You want a career, not just a job.
LaSalle is watching the sun rise, hours before anyone else you know is awake. LaSalle is saying good morning to everyone when they come in for the day. It's balloons… and it's also way more than balloons. It's a cheer that sweeps across the office when someone closes a huge deal, and it's the personal "thank you" you get for holding the elevator.
LaSalle is helping each other without question. LaSalle is working harder than you ever thought possible, and achieving more than you ever planned.
---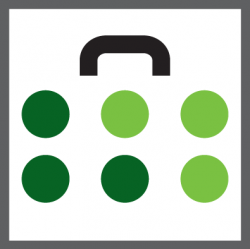 Ready to apply already?
Click the briefcase to browse our current openings.
---
Our people are the perks
… but these aren't so bad, either.
401(k) Matching

We offer a company match for all employees.

Transit Benefits

LaSallians can enjoy tax-free transit benefits.

Healthcare

We offer full medical, dental, prescription, and vision plans.
All-Company Incentive Trips

When we hit our revenue goals, the entire company goes on a trip.

Wellness Programs

Enjoy a fully equipped gym in the building.

Training & Career Development

We offer in-depth internal training, mentoring, and tuition reimbursement.
Rebirthdays

We celebrate each employee's work anniversary with food, speeches, gifts, and plenty of balloons.

Opportunity

90% of our management has been promoted from within.

Corporate Philanthropy

LaSallians enjoy PTO to volunteer

with organizations they support.
Not to toot our own horn but… toot toot
We've grown organically every year since we started – averaging 15% annually – and we have no plans of slowing down. We hired more than 70 new LaSallians in 2016, and we liked them so much we're hiring 100 more this year. We're taking "LaSalle Nation" to heart: we opened our first office in California last year, and we place talent in states across the country.
We're Community Champions
While we're growing nationally, we're dedicated to helping our local community, too. We're proud to partner with organizations like Ann & Robert H. Lurie Children's Hospital of Chicago, the Pat Tillman Foundation, Children's Home + Aid Society, the Special Olympics of Illinois, and Ounce of Prevention to give back through fundraisers, donation campaigns, volunteering, and 5K races.
Chicago Dance Marathon 

We have sponsored Chicago Dance Marathon for the past five years, and this year we raised more than $40,000!

Our Fallen Hero 5K


LaSalle has sponsored the Our Fallen Hero 5K for the past two years. Proceeds benefit the Pat Tillman Foundation.

Children's Home + Aid Society

Several times a quarter, LaSallians spend time doing activities with children at the Rice Center.

Special Olympics Illinois

LaSallians volunteered at a Special Olympics basketball tournament, and several of us took the polar plunge to raise money.
Are you ready to grow with us?